Introduction
The Composites Industry is a Cyclical and Institutional Business (B2B and B2G) which is closely linked to Specific Applications, Sectors, Technology and country's GDP growth as well. There is hardly any industry where Composite Components are not used. In the last 3 years. It is estimated that worldwide there are 30000+ known uses for Composites.
Composites uses in India have grown at a healthy rate over the decades in India. Yet this growth momentum of the Indian composites industry did slowdown over recent years due to a slightly lowered demand in key end use industries, increased raw materials prices and credit crunch across the supply chain.
Growth is predicted to pick up from 2017 itself  and both Raw Material and Composites manufacturers are already planning for significant capacity expansions by 2020.
Markets
India's composites industry which stood in 2015 at around 3 lakh metric tons is projected to grow rapidly to reach 4.18 lakh metric tons by 2020 at a substantial Compound Annual Growth Rate (CAGR) of 5.8 %. This scale of growth should result from rebounding Wind Energy Industry, growth in Mass Transportation production, Penetration of composites in untapped markets, and modestly rising index of industrial production. During the last five years (2011-15), the Indian composites industry grew at a CAGR of about 3.6% (Fig.1).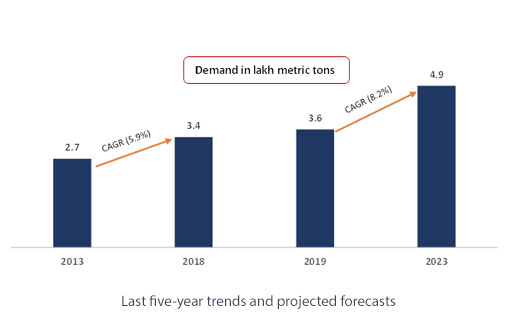 Raw Materials Consumption
The principal raw material which is Glass Fiber dominates the composites industry as a preferred Reinforcement material with a markets share of around 99%, of all fibrous materials used. Close to 25% of the glass fiber demand is catered by import supply. While other reinforcement fibers such as Carbon and Aramid fiber have import dependency markets. Aramid fiber is mainly used in production of bullet-proof jackets. The demand of aramid fibers is entirely met by imports mostly through E. I. du Pont de Nemours and Company, USA and Koninklijke DSM N.V., Netherlands. The import of carbon fibers has risen at a rate of two-fold from 30 MT in 2011 to 60 MT in 2015. Formosa Plastics Corp., Taiwan, Kureha Corp., Japan, Toray Industries, Inc., Japan, Toho Tenax Co., Ltd., Japan, Osaka Gas Chemicals Co., Ltd., Japan and ZOLTEK™ Corporation, USA (acquired by Toray) are major exporters of Carbon Fibers to India. Carbon fibers are used mostly in Defence, Aerospace, Sporting goods and Automobiles sectors as a substitute for metals and ceramics.
UPR as resin dominates the sector of Indian composites material with a share of 85%. The total estimated consumption of UPR in India for the composite markets was around 118,800 MT in 2015. The Indian composites raw materials (UPR) industry is somewhat fragmented (around 60-70 manufacturers), many in the unorganized sector.. Whereas he market for Epoxy resin was around 13,978 MT in 2015 (Fig.2).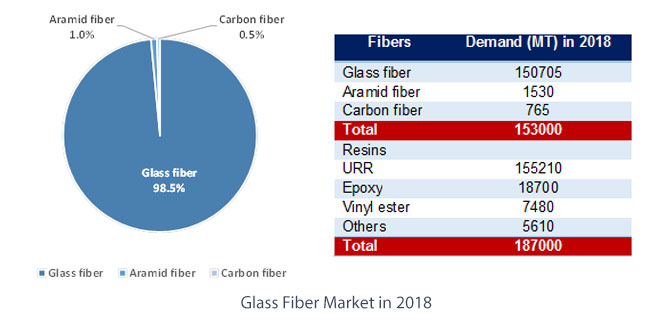 Sectors/Applications
The Indian composites industry needs reorientation to increased Research and Development actuivity (patenting activity) and its product  marketing upgraded to OEMs and Industrial users. There are five major industries where composites are mostly consumed in 2015 and these segments represented 71.2% of total volume (Fig.3). Mass transportation sector was the largest user of composite components with a share of 20.2% followed by Building & Construction (14.1%) and Electrical and Electronics (13.6%).


Composites growth in India is highlighted by substantial demand from Wind Energy, Mass Transportation, Building and Construction and Electrical & Electronics sector; that could be areas of significant growth and profit opportunities to the market leaders. FY 2015-16 was a historic year for the Indian Wind Energy industry because India added a record 3,460 MW of wind energy capacity over the period, way ahead of its target of 2,400 MW. The Indian wind energy industry surpassed the previous highest installation (3,197 MW) added in FY 2011-12.
Some of the major developments in the Wind Energy sector in India are as follows:
The Government of India has recently increased the target of the installed wind capacity from the current level of 24 GWs to 60 GWs by 2022
Various incentives implemented such as finalization of feed-in tariff and regulatory support provided by State Governments
Inclusion of Renewable Generation Obligation (RGO) in the Electricity Act
National offshore Wind Policy
The Renewable Purchase Obligations (RPO) and its Compliance Regulation
Green Energy transmission corridor
The government's initiatives are the major driving force in India to promote the Wind Energy sector, which will be providing growth to the Indian Composites industry.
India plays an important role for composites penetration in the Automotive Industry because of high motorcycle and passenger vehicles production. According to the World Bank report, India has 18 motor vehicles/1000 people, while in China it hovers around 69 as compared to 786 in North America, indicating significant growth potential. In 2015, the Indian Mass Transportation industry grew for the fifth consecutive year. It is estimated that Indian Railways consumes approximately 10,000 MT of composites for Battery Boxes, Trays, Roof ceiling, Glass shutters, and some other applications. The Government of India regulation states that 30% of components should be locally outsourced by the supplier in the Aerospace Industry.
The Indian automotive industry has attracted Foreign Direct Investment (FDI) worth a value of US $ 15.06 billion during the period April 2000 to March 2016. The Government of India allows 100 per cent FDI under the automatic route.
Some of the major initiatives taken by the Government of India and developments in the automobile sector are as follows:
Initiatives to set up a separate independent Department for Transport to resolve issues such as those related to fuel emissions, body specifications and fuel technology.
Government plans to promote an electric vehicle, CNG based vehicle and hybrid vehicle, under the National Electric Mobility Mission 2020.
Jaguar Land Rover plans to manufacture Land Rover SUV for the domestic market as well as for export market at its plant in Pune.
Electric vehicle maker Clean Motion (Sweden) plans to invest US$ 10 million in India over the next three years
Japanese utility vehicle manufacturer Isuzu Motors has inaugurated its Greenfield manufacturing unit in Andhra Pradesh at a cost of Rs 3,000 Cr.
Nissan Motor Co. Ltd. plans to bring electric and hybrid technologies to India
Global auto major Ford plans to manufacture in India two families of engines by 2017, a 2.2 litre diesel engine codenamed Panther, and a 1.2 litre petrol engine codenamed Dragon, which are expected to power 270,000 Ford vehicles globally.
The world's largest air bag suppliers Toyoda Gosei Company, TRW Automotive Inc. Autoliv Inc., and Takata Corporation are setting up plants and increasing production capacity in India.
Manufacturing Processes
In the last five years, the Indian composites industry has witnessed an increased use of mechanized manufacturing processes.  Still, Hand Lay-up process (40%, Fig.4) is the first choice among the composite fabricators due to its low operating cost and easy to handle. In addition to this, Filament Winding (15%) and Injection Moulding (13%) processes are widely used to produce composites components.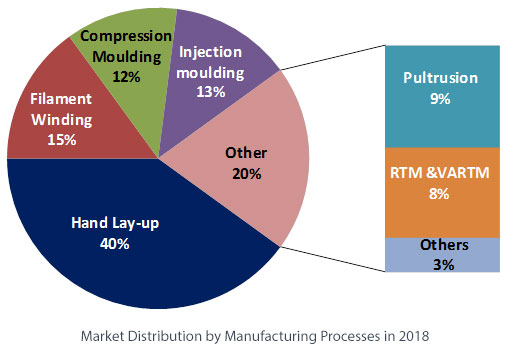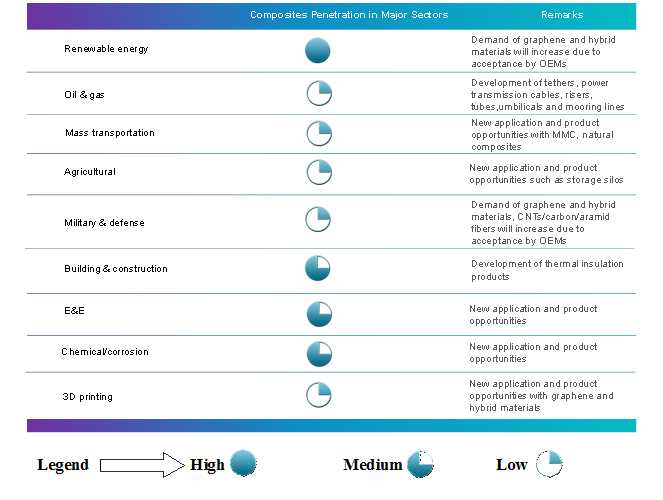 Challenges Ahead
The Indian composites industry still needs to overcome some constraints in moving ahead to cater to untapped markets. The fragmented market hierarchy within the value chain does result in disruption among the various stakeholders which has some inhibition to the growth rate.
Some of the major challenges to the Indian Composites Industry may be seen as follows:
A prolonged lack of awareness of composites in the Indian industrial world and a poor knowledge base
Absence of solid and concrete regulatory framework/bodies
Lack of standardization of end-use products
Recycling of composites waste
Low Intellectual property rights (IPR) activities and IP management
High Raw Materials prices.
Lack of quality consciousness among small FRP/GRP manufacturers
Little effort to develop new products and applications
The exact nature of the growth recovery could vary for the Indian composites industry and be dependent on larger macroeconomic variables like Indian GDP growth, new infrastructure and renewable energy projects, and core sector growth. However the most significant growth driver of Indian composites industry is the huge untapped potential of the domestic market (reflected in the very low per capita consumption of 0.25 kg of composites). There is a great scope for the Indian composites fabricators and raw materials manufacturers to cater the global export market, which will boost India's composites consumption in the next five to ten years. Going forward, the Indian composites market is poised to grow substantially in the next five years.
To quote Mr S. Sundaram verbatim from his article in Composites Today September 2016 —
" It is the future that hold the most exciting prospects for composites with the foundation for the same being laid as we speak. For gargantuan gains, it is imperative to dream big without being cocky or veering off at a tangent. Considering the fact that the government of India is a key stakeholder (indirectly – as a specifier or end user) in end applications in different market segments, its policies are closely watched and analysed by corporates when it comes to capital investment, product diversification and expansion of existing production capabilities. There is a perceptible uptick in the economy as reflected in the 7.5% GDP projection for this fiscal.
For the composites industry, the scenario cannot get better. The huge emphasis on infrastructure provides ample scope for extensive use of composites. The Government recently announced a target of Rs.25 trillion (US$376.5 billion) investment in infrastructure over a period of three years, which will include Rs. 8 trillion (US$ 120.5 billion) for developoing 27 industril clusters and an additional Rs. 5 trillion (US$ 74.3 billion) for road, rail and port connectivity projects. For this column, I include power, bridges, dams, roads and urban infrastructure development under the broad infrastructure sector umbrella. The 20-25% potential growth for composites is for taking, riding once again on wind energy, The annual target of 10GW til 2022 has been announced by the government – it's time to make it happen."