Introduction
The buoyant domestic demand for Composites provides a driving impetus for all stakeholders within the value chain; – Raw Materials suppliers and End Component fabricators, thus boosting employment prospects as well. Currently, the Indian Composites Industry is poised to provide a lucrative opportunity to the International Composites Community, and the still untapped markets will provide a platform for investments, both FII & DII.
The Composites Industry is cyclical in nature, depending on the country's economic growth and business cycles. It is dominated by institutional business (B2B and B2G), which is correlated with applications, sectors, technology and country's overall GDP growth as well.
The Indian Composites Industry has witnessed single digit growth in recent years and is expected to grow at a Compounded Annual Growth Rate (CAGR) of 8.2% in the next five years. The per capita consumption of composites in India is around 0.3 kg, against 2.5 kg in China and 11 kg in US.
The major driver for the Indian composites market growth is 'Make in India Initiative', the rise in demand of Composite Components is imminent for Renewable Energy, Oil & Gas, Mass Transportation, Electrical and Electronics, Chemical Industry, Infrastructure, Building and Construction (smart cities development, etc.) and Water Management.
Markets
Overall The Indian Composites Industry has experienced a comparatively healthy growth over the last five years and caters to a wide assortment of raw materials, components, and sectors. The current (in 2018) Indian Composites Market is estimated at 3.4 lakh metric tonnes, this is up 6.3% over the previous year, and witnessed the highest growth since 2015. The market is driven by growth in Mass Transportation, Electrical and Electronics, Infrastructure, Building and Construction. The per capita composites consumption reached 0.3 kg in 2018 from 0.25 kg in 2012. The Indian composites industry has a fragmented structure, consisting of around 3000 stakeholders in the value chain including small, mid-sized and large players across the country.
In September 2017, Industrial Major, – Reliance Industries Ltd. (RIL) made a foray into the growing Indian Composites market. The Indian Composites industry is projected to grow rapidly to reach 4.9 lakh metric tons by 2022 at a substantial CAGR of 8.2%. This scale of growth should result from rebounding Renewable Energy, growth in Mass Transportation, penetration of composites in the strategic sectors and modestly rising index of industrial production.
During the last five years (2013-18), the Indian composites industry grew at a CAGR of about 5.9% (Fig.1).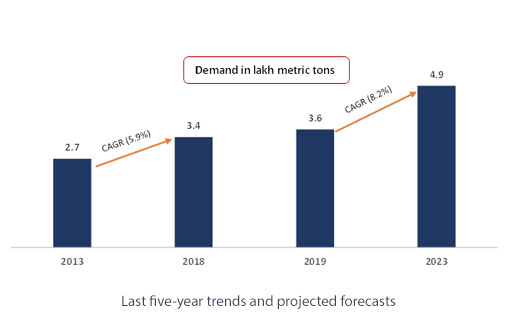 Last five-year trends and projected forecasts
Market Distribution by Raw Materials
Fibres
Glass fiber continues as the preferred Reinforcement Material for fabricators, due to low cost and compatibility with the production processes. In 2018, glass fibers constituted markets share of around 98.5% (Fig. 2) and close to 20% of the domestic demand for glass fiber was catered by import supply.
Carbon and Aramid Fibers, with low cost to performance ratio, are the import dependent markets destined to grow. Aramid fiber is mainly used in production of Bullet-Proof Jackets.
Formosa Plastics Corp., Taiwan, Kureha Corp., Japan, Toray Industries, Inc., Japan, Toho Tenax Co., Ltd., Japan, Osaka Gas Chemicals Co., Ltd., Japan and ZOLTEK™ Corporation, USA (acquired by Toray) are major exporters of Carbon Fibers to India. Carbon fibers are used mostly in Defense, Aerospace, Sporting goods and Automobiles sectors as a substitute for metals and ceramics. The demand of Aramid fibers is met by imports mostly through E. I. du Pont de Nemours and Company, USA and Koninklijke DSM N.V., Netherlands. f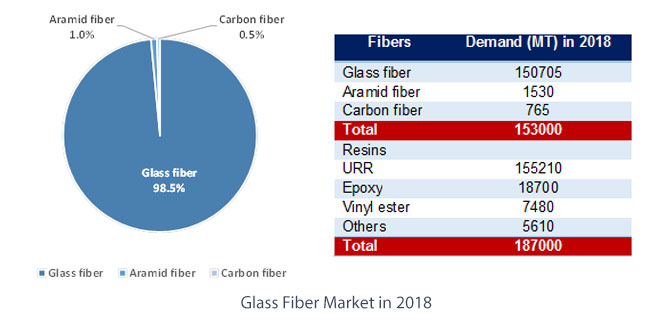 Resins
Unsaturated polyester resin is the largest consumed resin, representing 83% of total Indian composites market. The total estimated consumption of UPR in India for the composite markets was around 155,210 MT in 2018. The Indian composites raw materials (UPR) industry is somewhat fragmented (around 60-70 manufacturers) & unorganized. Whereas the market for epoxy resin was around 18,700 MT in 2018.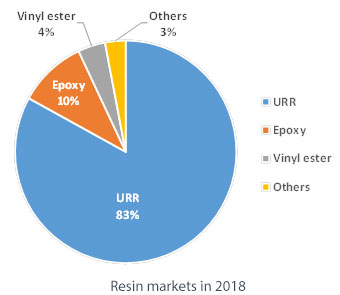 Sectors/Applications
The Indian Composites industry is less R&D intensive and poor IP protected (fewer patenting activity and scientific literature publications) and its products are marketed to OEMs and industrial users.
There are six major industries where composites are mostly consumed in 2018 and these segments represented 82.1% of total volume (Fig.4). Mass Transportation sector was the largest user of Composite Components with a share of 20.5% followed by Building & Construction (14.2%) and Electrical and Electronics (13.8%).
Composites growth in India is highlighted by substantial demand from mass Transportation, Building and Construction, Electrical & Electronics and Renewable Energy Sector; that could provide excellent growth and profit opportunities to Market Leaders. Calendar year (CY) 2017 was a historic year for the Indian Wind Energy industry because India added a record 4,148 MW of wind energy capacity, increases 20% over CY 2016. Indian Wind Energy Industry surpassed the previous highest installation (3,460 MW) added in 2016. The Government of India has recently increased targets of the installed wind capacity from the current level of 24 GWs to 60 GWs by 2022. As of now, India has cumulative installed capacity of 32 GW, which translates to add an average of 6,000 MW every year to meet the target.
Developments in the Wind Energy Sector in India are as follows:
Various incentives implemented such as finalization of feed-in tariff and regulatory support provided by state governments
Inclusion of Renewable Generation Obligation (RGO) in the Electricity Act
National offshore Wind Policy
The Renewable Purchase Obligations (RPO) and its Compliance Regulation
TGreen Energy Transmission Corridor
The Government's initiatives are the major driving force in India to promote the Wind Energy sector, which will be providing for the growth of the Indian Composites Industry.
The Automotive Industry
India plays an important role for Thermoplastics and Thermoset Composites penetration in the Automotive Industry because of demand and adoption by OEMs. According to the World Bank report, India has 18 motor vehicles/1000 people, while in China it hovers around 69 as compared to 786 in North America, indicating significant growth potential. In 2018.
The Indian automotive industry has attracted Foreign Direct Investment (FDI) worth value of USD 15.06 billion during the period April 2000 to March 2016. However, a fall of -36.31% in FDI inflows in the Indian automobile industry is witnessed to USD 1609.3 million during 2016-17 over 2015-16. The Government of India allows 100 per cent FDI under the automatic route.
Some of the major initiatives taken by the Government of India and developments in the automobile sector are as follows:
Initiatives to set up a separate independent Department for Transport to resolve issues such as those related to fuel emissions, body specifications and fuel technology.
Government plans to promote electric vehicle, CNG based vehicle and hybrid vehicle, under the National Electric Mobility Mission 2020.
Recently, Indian Oil Corporation Ltd., the nation's largest fuel retailer, and Tata Motors have started collaboration to jointly develop indigenous hydrogen fuel cell technology
In 2016, The LNG – driven bus was rolled out in Kerala through a joint effort of Petronet LNG Ltd., IOCL and Tata Motors Ltd.
Recently, around 16 companies signed memoranda of understanding with the Andhra Pradesh government for setting up auto ancillary units to cater to Korean auto maker Kia car's manufacturing facility. The automotive giant Kia Motors, South Korea based out is setting up its first car manufacturing plant in Anantapuramu district (AP) with an investment of USD 1.1 billion.
Jaguar Land Rover plans to manufacture Land Rover SUV for the domestic market as well as for export market at its plant in Pune.
Electric vehicle maker Clean Motion (Sweden) plans to invest USD 10 million in India over the next three years
Japanese utility vehicle manufacturer Isuzu Motors has inaugurated its Greenfield manufacturing unit in Andhra Pradesh at a cost of INR 3,000 Cr.
Nissan Motor Co. Ltd. plans to bring electric and hybrid technologies to India
The world's largest air bag suppliers Toyoda Gosei Company, TRW Automotive Inc. Autoliv Inc., and Takata Corporation are setting up plants and increasing production capacity in India.
The Indian Mass Transportation Industry grew for the sixth consecutive year. It is estimated that Indian railways consumes approximately 12,000 MT of Composites for Battery Boxes trays, Roof Ceiling, Glass Shutters, Window frames and other applications.
The Aerospace Sector
The Government of India regulation states that 30% of components should be locally outsourced by the supplier in the Aerospace Industry.
Market Distribution by Manufacturing Processes
In the last five years, the Indian composites industry has witnessed the increased use of mechanized processes. Still, hand lay-up process (40%, Fig. 5) is the first choice among the composite fabricators due to its low operating cost and easy to handle. In addition to this, filament winding (15%) and injection moulding (13%) processes are widely used to produce composites components.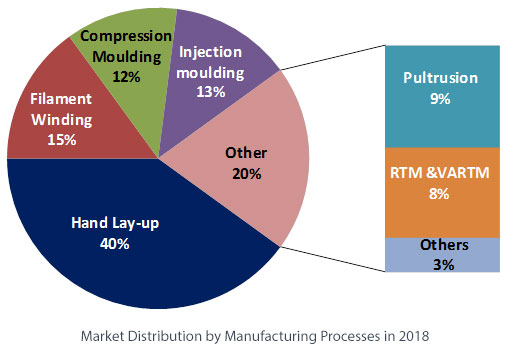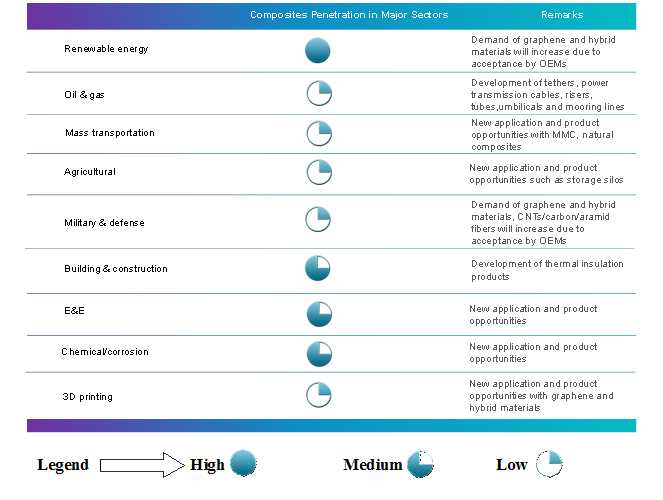 Challenges Ahead
The Indian Composites industry still faces constraints to moving ahead to cater to untapped markets. The fragmented market hierarchy within the value chain tends to cause intermediary uncertainties amongst various stakeholders with corresponding inhibitors to the growth rate.
Some of the major challenges for the Indian composites industry are as follows:
The need to eliminate a persistent "Lack of awareness" of Composites in the Indian Industrial World and a prevailing low knowledge base.
Absence of solid and concrete Regulatory Framework/Bodies
The need to promote Standardization of end-use products
Recycling of Composites Waste and EoL
Low IP activities and IP management
Limited number of Scientific Publications
Carbon Fibers dependency on Import markets
Need to improve Quality Consciousness among small FRP/GRP Composites manufacturers
Need to step up effort to develop New Products and Applications
The exact nature of the growth recovery could vary for the Indian Composites Industry and be dependent on larger macroeconomic variables like Indian GDP growth, new infrastructure and Renewable Energy Projects, and Core Sector growth.
However the most significant growth driver of Indian composites industry is the huge untapped potential of the domestic market (reflected in the very low per capita consumption of 0.3 kg of composites).
There is a great scope for the Indian Composites fabricators and Raw Materials manufacturers to cater the global Export Market, which will boost India's Composites consumption in the next five to ten years. Going forward, the Indian composites market is poised to grow substantially in the next five years.