ICERP-JEC Innovation Awards Program

Download Innovation Award Registration Form
Email: innovation@icerpshow.com
Innovation is the key to industrial progress and to encourage the innovations carried out in the field of composites in India, an innovation award programme was initiated in the year 2008. FRP Institute and JEC group, France jointly introduced " ICERP-JEC Innovation Award Programme" during ICERP 2008. The Innovation Award Program encourages the Indian composite professionals and companies to focus their application of information, imagination, skill and initiative through which new ideas are generated and converted into useful composite products or processes. This Innovation Award Programme gives the Indian composites professionals and companies great scope to create value to their customers and also brings recognition, not only in India but also internationally.
This program has been created to achieve the following:
Discover, promote, and reward the most innovative composite products and solutions made in India,
Encourage and enhance the visibility of Indian composites companies and their partners involved in innovative composites developments
Contribute to composite industry advancement.
The winners of the ICERP-JEC Innovation Award Programme will be presented a trophy and the Winners Certificate by JEC, France and FRP Institute. This ICERP-JEC Innovation Award Programme has created awareness in the Indian Composites Industry and increased number of applications are being received form Indian companies in each edition as we progress from ICERP2008 to ICERP2015.
BENEFITS FOR PARTICIPANTS
The benefits for the participants are many. Thanks to a comprehensive media communication plan, an increasing number of press partners, and a wide coverage of the program in Indian and international trade magazines (JEC Group networks with 250,000 professionals worldwide), selected companies and their partners will benefit from:
International recognition through greater visibility
Greater prominence on the national and international stage
Business growth
End user and customer confidence
New Business opportunities and potential partners
About JEC Group:
"JEC is the largest composites industry organization in Europe and in the world with a network of 250,000 professionals. JEC represents, promotes and expands composites markets by providing global or local networking and information services. Through knowledge and networking, the JEC experts offer a comprehensive service package: the JEC publications – including strategic studies, technical books and the JEC Composites Magazine – the weekly international e-letter "World Market News" and the French e-letter JEC Info Composites. JEC group conducts Composites Conferences, Forums and Workshops (including I.C.S., the Innovative Composites Summit) in Paris, Singapore and Boston, and the JEC Innovation Awards program (Europe, Asia, America, India and China)."
JEC Composites Magazine and JEC E-Newsletter actively support the program by publishing complete reports on finalists and winners

ICERP – JEC INNOVATION AWARD WINNERS 2019
| Sr. No. | CATEGORY | WINNER |
| --- | --- | --- |
| 1 | Raw Materials | The Bhor Chemicals and Plastics Pvt. Ltd |
| 2 | Aerospace | Airbus Group India Pvt. Ltd. |
| 3 | Automotive | Moldex Composites Pvt Ltd |
| 4 | Building & Construction | Crest Composites and Plastics Pvt. Ltd. |
| 5 | 3D-Printing | Fabheads Automation Private Limited |
| 6 | E-Mobility | Trio Vision Composite Technologies Pvt. Ltd. (India) |
| 7 | Unmanned Aerial Vehicle (UAV) | Moldex Composites Pvt Ltd |
| 8 | Wind Energy | Suzlon Energy Ltd |


The winners of the ICERP – JEC Innovation Award Programme (2017)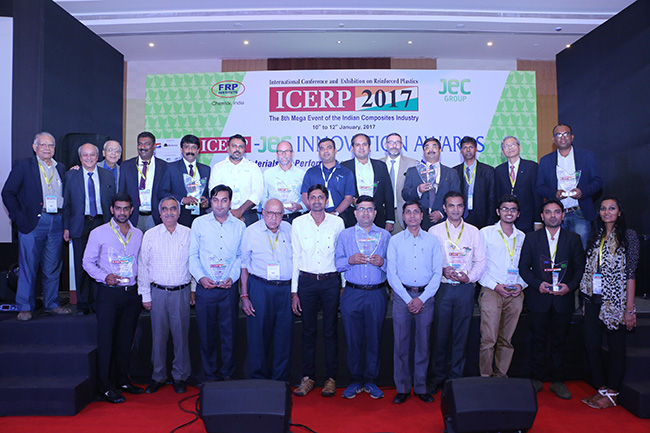 | Sr. No. | CATEGORY | WINNER | PRESENTED BY |
| --- | --- | --- | --- |
| 1 | INTERMEDIATE PRODUCTS | HINDOOSTAN COMPOSITE SOLUTIONS | Mr. FREDERIC REUX, Editor JEC Magazine |
| 2 | PROCESS EQUIPMENTS | ASHIRVAD INDUSTRIES | Mr. FREDERIC REUX, Editor JEC Magazine |
| 3 | BIO-COMPOSITES | HINDOOSTAN COMPOSITE SOLUTIONS | Mr. FREDERIC REUX, Editor JEC Magazine |
| 4 | WIND ENERGY | MOLDEX COMPOSITES PVT. LTD. | Mr. FREDERIC REUX, Editor JEC Magazine |
| 5 | MEDICAL APPLICATIONS | ADORN ENGINEERS | Mr. FREDERIC REUX, Editor JEC Magazine |
| 6 | INDUSTRIAL APPLICATIONS | PERMALI WALLACE PVT. LTD. | Mr. FREDERIC REUX, Editor JEC Magazine |
| 7 | DEFENCE APPLICATIONS | KINECO LTD. | Mr. FREDERIC REUX, Editor JEC Magazine |
| 8 | SPACE APPLICATIONS | ISRO AHMEDABAD & ATIRA | Prof. S. C. LAKKAD, Chairman, FRP Institute |
| 9 | E-MOBILITY APPLICATIONS | TRIOVISION COMPOSITES TECHNOLOGY PVT. LTD. | Mr. PRADIP THAKKAR, Chairman, ICERP 2017 |
| 10 | MARINE APPLICATIONS | DIAB CORE MATERIALS | Mr. ROBERT LEE, Secretary, Taiwan Composite Association |

The winners of the ICERP – JEC Innovation Award Programme (2015)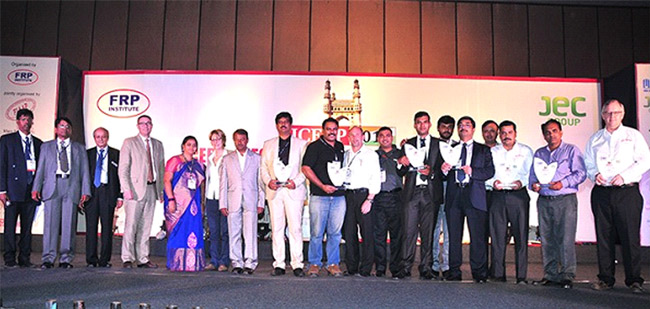 In the ICERP 2015 event held at Hyderabad during 29th to 31st January 2015 and the innovation awards were presented in 7 categories and the award function was held on 30th January, 2015 as part of the event and it was well attended by experts, exhibitors, delegates. The award winners in the 7 categories are
| Sr. No. | CATEGORY | WINNER | PRODUCT |
| --- | --- | --- | --- |
| 1 | RAW MATERIALS | CREST COMPOSITES & PLASTICS PVT LTD | Bisphenol A based epoxy vinyl ester gelcoat |
| 2 | Intermediate Products | Hindoostan Compostie Solutons | Indigenous Development of High Performance Prepregs |
| 3 | Tooling | Sthenos Composites | A Methodology to Replicate Any Texture On Master Patterns |
| 4 | PROCESS EQUIPMENT | SVS Hydraulics Pvt Ltd | 20-Ton Dual clamp PULTRUSION Machine |
| 5 | Automotive | Moldex Composites Pvt Ltd | Structural Design and Manufacturing of Composite Tire |
| 6 | Transportation | Composites Consulting Group (CCG) | FRP Sandwich Container |
| 7 | ART & ARCHITECTURE | Moldex Composites Pvt Ltd | Artwork by the Use of Aerospace Grade Aluminum Alloy and Visual Quality Carbon Fiber Sandwich Panels |
The winners of the ICERP-JEC Innovation Award Programme (2013)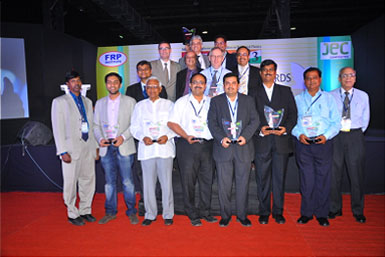 The winners of the ICERP-JEC Innovation Award Programme (2013) and their catagories
| CATEGORY | WINNER | PRODUCT |
| --- | --- | --- |
| RAW MATERIALS | URJA PRODUCTS PVT LTD | SPECIALITY CARBON FIBRE FABRICS |
| SPORTS & LEISURE | MOLDEX COMPOSITES PVT LTD | BICYCLE DISK WHEEL |
| PROCESS / EQUIPMENT | SVS HYDRAULICS PVT LTD | REBAR MAKING MACHINE WITH MULTIPLE WINDING HEADS |
| AUTOMOTIVE | STHENOS COMPOSITES | CFRP BODY PANELS FOR AUTOMOTIVE APPLICATIONS |
| MASS TRANSPORTATION | KEMROCK INDUSTRIES & EXPORTS LTD | BIO-DIGESTER TOILET FOR MASS TRANSPORT AND OTHER SECTORS |
| CHEMICAL /CORROSION | MODERN ENGINEERING PLASTICS PVT LTD | FRP ROAD TANKER |
| CIVIL/INFRASTRUTURE | RAWJI INDUSTRIAL CORPORATION | FRP MANHOLE COVERS |
| MEDICAL | MOLDEX COMPOSITES PVT LTD | MEDICAL BOOM |
ICERP – JEC INNOVATION AWARD PROGRAM (2011)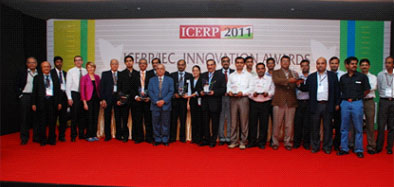 ICERP-JEC INNOVATION AWARD WINNERS 2011
| S.No | CATEGORIES | WINNERS | Description of innovation entry |
| --- | --- | --- | --- |
| 1 | Raw Materials | Crest Composites & Plastics Pvt. Ltd. | Thicken able Vinyl Ester Resins |
| 2 | Process/Equipment | Mechemco Group | New Mould Making Process |
| 3 | Telecom & Electronics | Kemrock Industries & Exports Ltd. | Composites Telecom Towers |
| 4 | Building & Construction | Lancer Reinforcements Pvt. Ltd. | Recreated Wood & Stone Facades for Buildings |
| 5 | Industrial & Chemical | Mahindra Composites Ltd. | Monolithic Carbon Fiber Windmill Blades |
| 6 | Defence | Suvarna Fibrotech Pvt. Ltd. | High Altitude Habitat |
| 7 | Transportation | Mahindra Composites Ltd. | Battery Box for Electrical Vehicles |
| 8 | Research & Technical Centers | RV-TIFAC Composites Design Centre | Craft Paper Honeycomb for Composites |
ICERP – JEC INNOVATION AWARD PROGRAM (2008)

ICERP-JEC INNOVATION AWARD WINNERS 2008
| S.No | CATEGORIES | WINNERS | Description of innovation entry |
| --- | --- | --- | --- |
| 1 | Services & Equipment | CNC Technics Pvt. Ltd. | Filament Winding Machines |
| 2 | Raw Materials | FRP Accessories | Printed Surface Veil |
| 3 | Building & Civil Engineering | Kemrock Industries & Exports Ltd. | Lamp Poles |
| 4 | Transportation | Mahindra Composites td. | SMC Auto Rickshaw Mudguard |
| 5 | Societal | Suvarna Fibrotech Pvt Ltd | FRP Disaster Shelters |
| 6 | Defence | Chem- Plas India | Super Thin Metalized FRP Sheet |